The Northern Link
Land O'Lakes Community Services
12497 A Hwy#41 Unit 1
Northbrook ON K0H 2G0
Phone: 613-336-8934
​Toll Free: 1-877-679-6636
Denbigh Diners 
Join us at the Denbigh Hall! Cost is $8.00 for a hot, delicious homemade meal and entertainment. Follow us on Facebook for Dates and Times.
Meals on Wheels


(All meals include soup and a roll)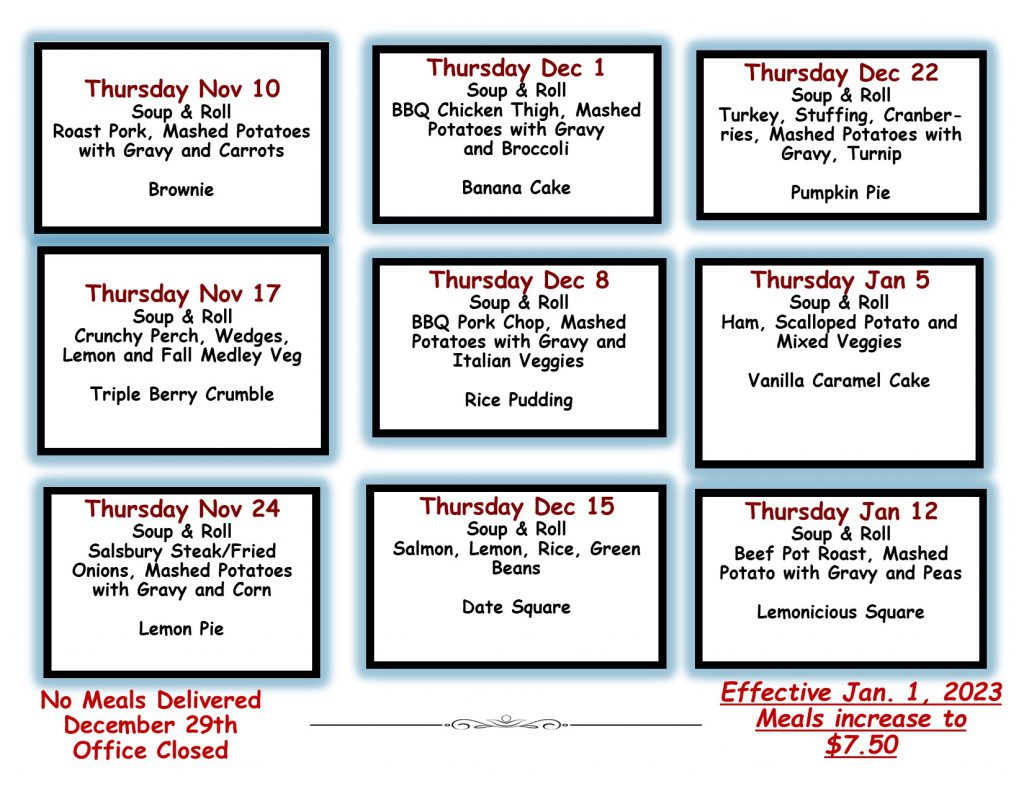 ​Volunteers Needed!
Have you ever thought of Volunteer Driving? Each trip is reimbursed at a flat rate. Drivers are needed for seniors to get to medical appointments, social gatherings, etc. Interested?
Call Marlene
(Seniors Transportation Coordinator) @ 613-336-8934 x233
---
Homemaking/Home Maintenance​

​Available in the Northbrook and the Denbigh areas.

​Call Katie at 613-336-8934 for more information.
COMMUNITY BUS PROGRAM
The Community Bus Program has been postponed at this time. Please keep an eye on our Facebook page for any updates.
ADULT DROP IN
Please keep an eye on our Facebook page for any updates.
Gift Certificates are available for all of our services. For more information on these services, call Marlene at:
613-336-8934 or 1-877-679-6636
Do you know a woman who needs help with an abusive situation? The Women's Program can help.
​613-336-8934 or 1-877-679-6636 Privacy Respected.
We would like to welcome Kiersten Holmes to our Women's Program team!
We are very excited to have you aboard!
613-336-8934 x222
FOOT CARE
Contact us for more details or keep an eye on our Facebook page.
We are now offering a Foot Care Clinic that is provided by a Registered Nurse with specialized training in Foot Care.
Healthy feet are essential to continued mobility, independence and to reduce any risk of further serious complications. For more info call Katie at ​613-336-8934 or toll free @ ​1-877-679-6636 .
Lifeline


In the event of a fall or emergency, every second counts. The Lifeline service gives you confidence knowing help is available 24/7.

The Philips Lifeline service is ideal for someone who:
– is at risk for a fall
– is recently home from the hospital
– uses a device for walking
– managing a medical condition
– considering a move to an assisted living facility.
Please contact us at 1-800-387-8120 x7007
or
Visit our website www.lifeline.ca